Email Marketing
Services
Drive Revenue and Generate Leads by Delivering Personalized Emails.
TG Connect Media Services is an email marketing agency in Navi Mumbai, we are focused on using email marketing services as growth hacking strategy for our esteemed clients. Your email marketing campaigns reflects your brand persona. We help you with all your email marketing needs starting from developing email body and its content to its timely delivery and open rate. TG Connect can be your one-stop digital marketing solution partner.
TG Connect is one of the best email marketing service provider in Mumbai, we not only know which options work and which ones don't, but we also have the technology and support ready to help you make every email count. It's a smarter approach to email marketing, and one that will have subscribers as excited about your emails now as they were when they first heard the phrase "You Have Mail!"
Avoid the traditional bulk emails! Engage your users with personalized emails at the instant, raising brand loyalty. Backed by in-depth insights and features, you can be assured to create an engaging user experience every time.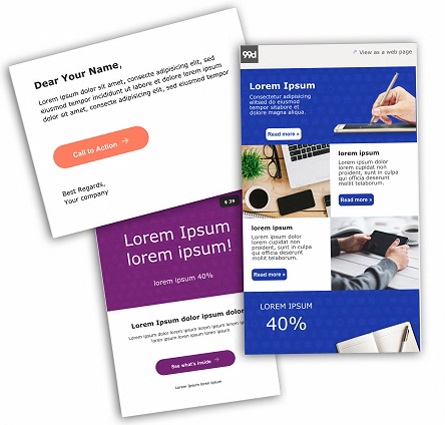 Our Approach to Email Marketing

Template Development
Our Development Team expertise in coding and designing your idea into the best email template that will help you achieve your revenue goals. If you have any design files and wish to start the campaign with them, we can help you convert them into functional HTML email templates.

Automation Management
We automate the email campaigns so your subscribers receive the right communication at the right time with email based on criteria and triggers set as per your business objectives. We match our automation as per your objectives to ease your efforts and get maximum ROI.

Multiple touch-points
We ensure constant engagement and interaction with your customer through multiple touch points as we create automation at every stage of the customer journey to touch-base with customers for at-least once.

Hassle Free Execution
TG Connect email marketing service provider has an efficient team of certified specialists for leading ESPs, aligned with your processes, communication and project management tools Campaign execution with 99.98% accuracy rate Process-oriented approach to validate your, design, campaign, code and content using an exhaustive checklist Quality-tested delivery for maximum compatibility.