Social Media
Marketing Services
Low-Cost And Effective Social Media Marketing Services
The Influence of various Social Media platforms is growing day by day, Almost every brand is trying their best to reach their target audience and have a long-lasting impact on them, but very few are successful in tapping the right chords at the right platform and at the right time.
On average people spend 3 hours on social media per day, scrolling various types of content, or searching for what their favourite brands are up to? It will come as a good news for every small and large scale business that there are over 1 billion users across various social media channels which gives you full scope to form a large consumer base, every Business or Brands can benefit by creating a result-oriented strategy for their social media.
Potential consumers who are actively searching for products, services, information or exploring social media handles of brands may notice you if you are present on the right platform and sharing the right content.
How can Social Media Marketing Services can help your business?
Gone is the time when brands and businesses used to have a one-way communication with their audience through their commercial broadcasting on TV, Radio, Newspaper, Hoardings and other mediums. Today we witness an era of digitalization where interaction with the consumer plays an important aspect in marketing the products or services.
And this two-way interaction has become easy with the help of numerous Social Media Platforms, Whether you are B2B or B2C business, social channels are available for all, earlier these mediums used to serve as networking community but today they serve the purpose of not just networking but also given an opportunity to engage and interact with your audience through creative content.
When individuals understand the term social media their minds typically head towards Twitter or Facebook, but there are many other social media channels available. Using the right ones is the task where many brands and companies fail.
TG Connect Media Service is the Best Social Media Marketing Agency based in Navi Mumbai, helping you select the right social platform to connect with your target audience and curate the perfect piece of content that grabs the attention and have significant engagement & interaction across all channels, achieving your business goals and maintaining your online reputation.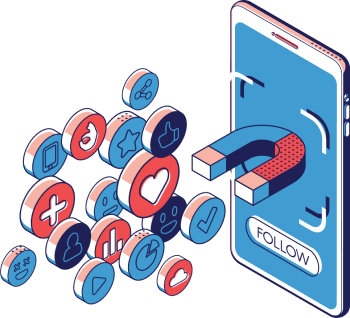 How Our Social Team Can Help?
As one of the top Social Media Marketing Companies in Mumbai - India, we make sure that your brand by no means falls into publicized #epicfail marketing campaign or a compilation of the social media disaster.
Also, we won't be completely taking over your account as we recognize that your brand followers want to talk to you and not just listen to constant, one-way sales messages driven by your social media marketing agencies.
As a full-service Digital Marketing and Social Media Maketing Agency in Mumbai, our in-house team has the right set of skills and passion to design, implement and control each aspect of your bespoke social media marketing campaign that organically your online community and have interaction with the key influencers.
We can generate measurable and meaningful conversations throughout all platforms and use them to drive traffic to your website, build brand advocacy and create buzz around your company's product, service, and information, ensuring that you are a part of the verbal exchange.
We take full pride in saying that we are a one-stop Digital and Social Media Marketing Agency in Mumbai that has every solution to maintain your overall online presence and help you develop practical social media strategies that fit perfectly for reaching your target audience and their perception of your brand.
Our Approach to Social Media Marketing Services

Professional Expert Taking care of Your Social Media Presence.
Our bunch of social media experts will learn and study your brand, your competitors and the ongoing trends in the market for you.
We will be responsible to listen to the voice of your audience and reply to their engagement activities.
Being a Social Media Marketing Agency, Our team will be in regular touch with you via email or call for a smooth flow execution.

Develop a Social Media Strategy that is Specific to Your Business Needs.
Developing the right strategy as per your brief and match it with your targeted audience interest and behaviour.
Hostile evaluation, developing a buyer's persona and outlining an effective content strategy that connects with your audience.
Recommending advertising techniques and funnels for your campaign to show up the roadmap to success in a wider reach.

Scheduling Weekly/Monthly Content Calendar.
Our experts schedule the content on a weekly/monthly calendar basis.
Post it at a time when it gets maximum reach, interaction, and engagement.
Opportunity to check every piece of content before it goes live.
Feedback and Suggestions are always welcomed.
Assurance of Unique and Quality Content.

Growth Optimization
Daily management of growth optimization.
Screening all social media activities (comments, messages, and reviews), and intend to respond within 24 hours.
Response within 24 Hours.
Using organic tactics (hashtags, following, contests, and so forth.) to grow your channels.

Reporting and Communication
We love statistics and our social media reporting will help you identify and inform future activity not only in a limited social circle but also across all different platforms.
Sharing Regular Weekly/Biweekly/Monthly Reports of all the engagement received on the shared content.
Being a Social Media Marketing Agency in Mumbai, we can sit over a cup of coffee anytime if required to discuss prospects and progress.

Social PR
Maximum Coverage through our Bloggers and Influencers network
Assist you to bridge the gap between your offline and online marketing efforts.
Be the voice of your brand that your audience wants to hear.
Communicate with your fans to create a sense of brand loyalty.
Turn successful followers into loyal leads.